A proposed net-zero vertical farm at U of T Scarborough is part of a broader partnership between the university and Centennial College that is focused on advancing the clean-tech sector (rendering courtesy of U of T Scarborough and Centennial College)
A new partnership involving five universities and colleges across the eastern Greater Toronto Area is bringing a training and innovation hub for green technology to the University of Toronto Scarborough.
The Environmental and Related Technologies Hub (EaRTH), located on the U of T Scarborough campus, will develop the region's green and sustainable technology sector through research, academic programming and commercialization of advanced technology.
"EaRTH will enable the next generation of green-technology innovators to thrive," says Andrew Arifuzzaman, U of T Scarborough's chief administrative officer.
"We're in an environmental crisis and the urgency of the situation requires immediate action that can only be solved with the greatest minds working together, which we have right here."
The partnership, which includes U of T Scarborough, Centennial College, Ontario Tech University, Durham College and Trent University, will foster world-class environmental science research, training opportunities for existing and future jobs in the green-tech sector, as well as translating new knowledge and innovation into entrepreneurship.
Professor Wisdom Tettey, vice-president and principal of U of T Scarborough, says being able to help empower community members to play an active role in combatting climate change was a key element in developing the EaRTH District.
"We are well-positioned to help with this effort by being an active leader – along with our partners – in transforming and facilitating access to the benefits of green and sustainable technologies."
He says that creating a district in the eastern GTA for community members to live, work and play also meets the United Nations Sustainable Development Goals.
A major priority of the EaRTH District is to address an urgent need for sustainable solutions to tackle the challenges of climate change by developing technological and social innovations. It will do that by filling a skills gap that currently exists through access to educational programs in the green-tech sector that include joint degrees, micro-credentialing and experiential learning.
The district includes facilities for research, training and innovation. A memorandum of understanding (MOU) was signed by all five partner institutions on Oct. 28 to formally launch the initiative.
The partnership institutions will work with the public and private sectors, as well as Indigenous communities, in the development of green and sustainable technologies. Each institution will contribute its unique expertise and training in the environmental sciences, advanced technology and emerging areas of the green-tech economy.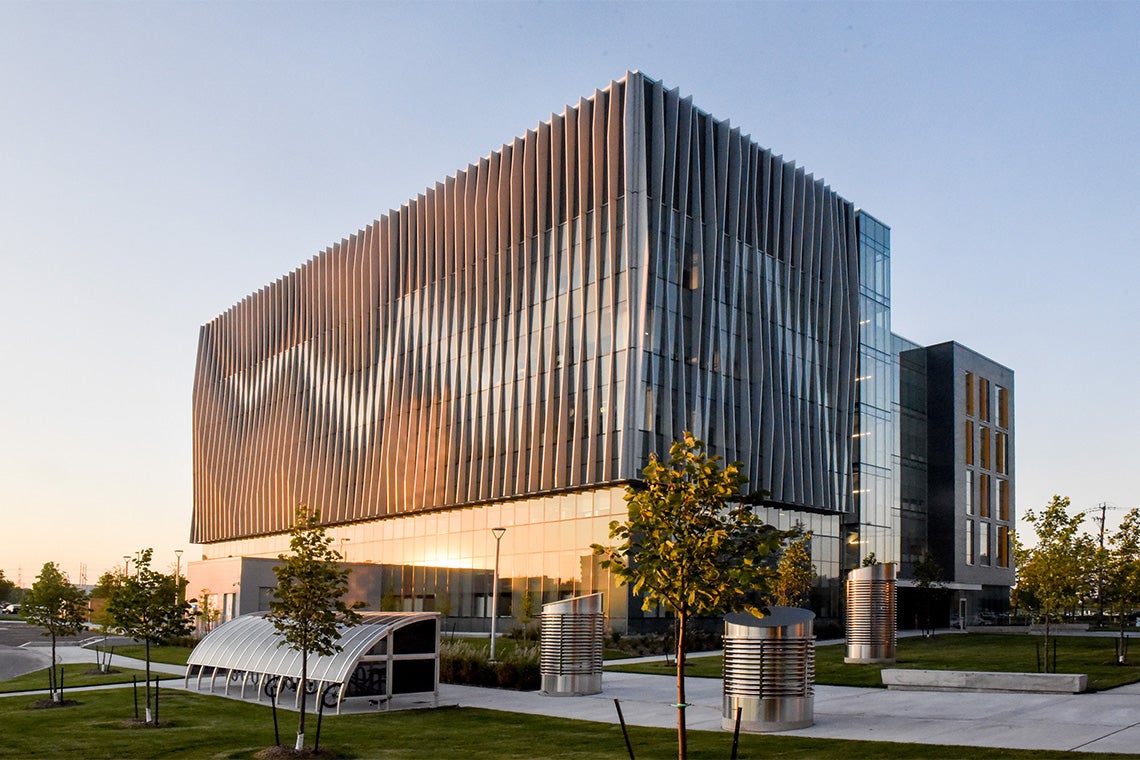 U of T Scarborough's Environmental Science and Chemistry Building opened in 2015 (photo by Ken Jones)
Several activities are already underway in support of the EaRTH District. They include U of T Scarborough's Environmental Science and Chemistry Building, which opened in 2015, and plans to build Canada's first net-zero vertical farm dedicated to advancing urban farming techniques. A third phase will include the Advanced Environmental Technologies Building, which will house facilities for developing sustainable industrial technologies and fostering green-tech entrepreneurship.
Professor Irena Creed, vice-principal, research and innovation at U of T Scarborough, says there are many projects underway that take a collaborative and interdisciplinary approach to research and development that align with the EaRTH District. These include developing technologies that can reverse groundwater pollution, capturing energy from vehicle brake systems to re-charge batteries, and using smart materials and microbes to create alternative fuel sources.
"As a leader in environmental science research, U of T Scarborough is uniquely qualified to tackle some of the most pressing environmental challenges of our time," she says.
"Developing innovative solutions to these complex challenges is an exciting opportunity, and one that will hopefully help lead to more resilient communities better able to face the climate crisis."
Canada's $61.9-billion green-tech industry currently employs more than 282,000 people, mostly in waste management services, energy efficient technologies, transportation, environmental remediation and renewable energy services.
An important goal of EaRTH is to bring investment in that sector to the eastern GTA.
Arifuzzaman says the industry will continue to grow and create an environment where new and innovative technologies are being developed locally, generating high quality, in-demand jobs for residents of Scarborough and the Durham Region.
He points to a report prepared by the partner institutions that finds EaRTH has the potential to generate $8.4 billion in economic output, educate 35,000 students and create more than 4,400 direct jobs once fully operational.
"Collaboration among the five post-secondary institutions working on solutions amplifies this effort exponentially," says Arifuzzaman.
"It's time for us to contribute on a global level and EaRTH is the gateway to doing so."